Due to the recent ice storm, WMU will have its compost site located at 2033 Van Meter Road open to the public for tree limb disposal every Wednesday and Saturday in March from 8am-3pm. If you are a WMU customer (water, sewer, or solid waste) you may bring tree limbs to the compost site at no cost. A current WMU bill and valid picture ID will be required to dispose of the limbs.  Contractors or third party individuals will NOT be allowed to unload without the WMU customer present with a bill and ID (NO EXCEPTIONS). If you have any questions, please contact the Winchester Municipal Utilities Solid Waste Department at 859-744-1170.
The Winchester Municipal Utilities curbside yard waste program for the 2021 season will begin March 29, 2021 and run through November 19, 2021. Please have all green curb-its, bagged lawn waste, and small bundles of limbs out to the curb by 7:00 am on your collection day. No dirt, rock, mulch, or gravel will be accepted with this program.
Transfer Station is located at 175 N. Maple Street
To dispose of waste at the Transfer Station please follow the driveway all the way to the last building.
HOURS OF OPERATION  (Monday – Friday)
7:00 a.m. – 11:30 a.m.
Closed 11:30 a.m. – 1:00 p.m.
1:00 p.m. – 3:30 p.m.
On Tuesday, May 14, 2019, WMU Staff was notified by the Lexington Recycle Center that effective immediately they have temporarily suspended recycling of paper products which includes office paper, envelopes, phone books, calendars, folders, fliers, shredded paper, newspaper, magazines, cereal boxes, paper towel rolls and similar products. With this change in policy by the Lexington Recycle Center, WMU curbside recycling has been suspended until further notice. All curbside recyclable material that is collected will be sent to the landfill.
In the meantime, WMU encourages customers to use the voluntary Recycling Center located at 175 N. Maple Street. The recycling center is open 24 hours per day, 7 days per week and is located behind WMU's Main Office at 150 N. Main Street; however, it is only accessible from the WMU N. Maple Street entrance.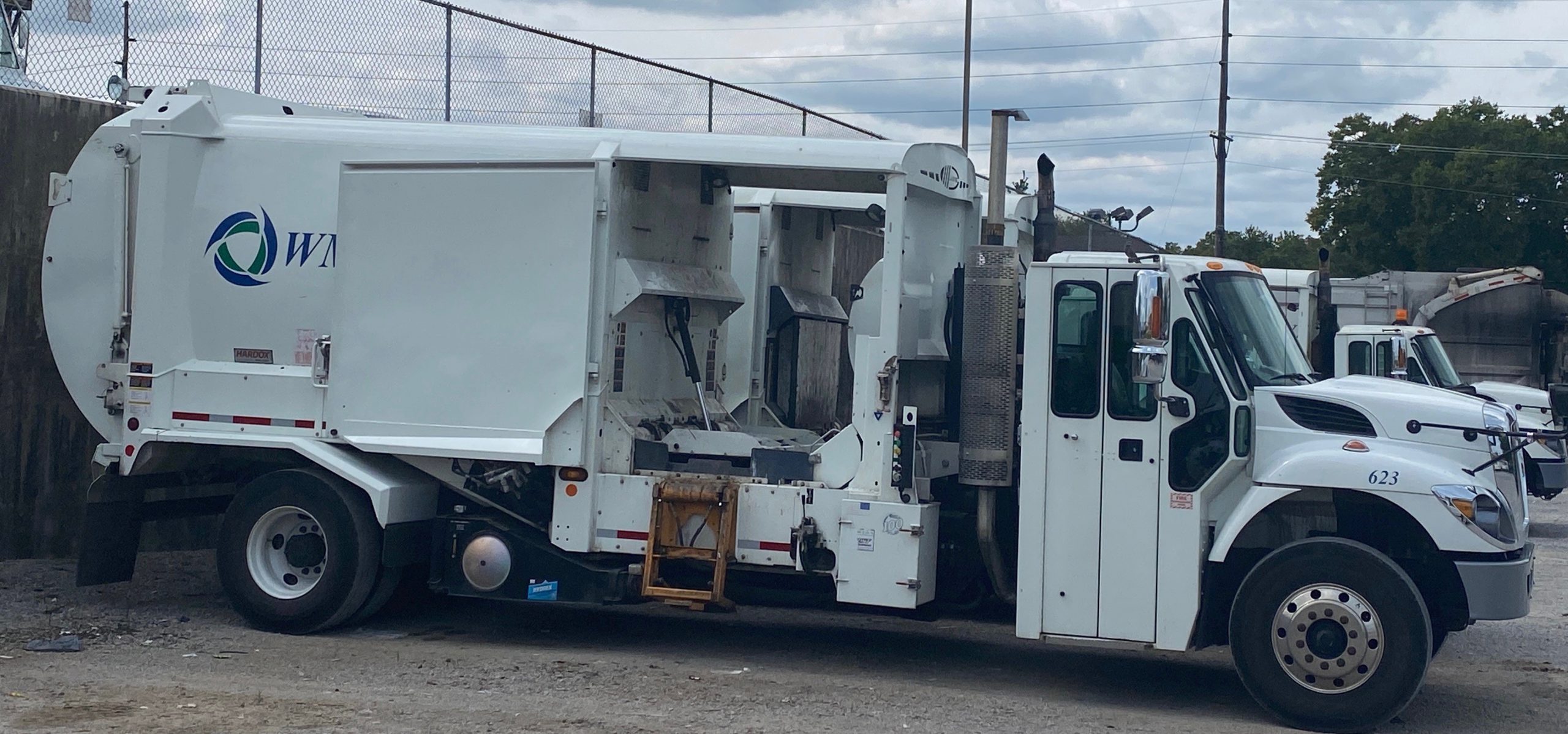 On Pick-Up days Curbits need to be at the curb by 7:00 am
Garbage shall not be placed at the curb until after 6:00 p.m. on the day before scheduled collection and containers shall be removed as soon as practicable after collection, but no later than 8:00 p.m. on the day of collection. City Ordinance 14-70 3(b).
The following data is for the month of December 2020.
Solid waste collected and transported for disposal was 1,391.87 tons for the month of December 2020.  Average day was 66 tons.  Year-to-date solid waste collection and disposal is 8,730.39 tons; Year-to-date average day solid waste collection and disposal is 70 tons.  Daily averages are based upon calendar days.  The December 2020 landfill costs were $43,189.73.
During December 2020 approximately 92 tons of yard waste was diverted from the solid waste stream and landfill disposal resulting in approximate savings of $2,854.76 transportation and tipping fees.  Year-to-date total 844 tons.
During December 2020 the trash truck (boom truck) collected 680 cubic yards of trash and large yard waste and 460 cubic yards of yard waste.  Year-to-date trash collected is 4,800 cubic yards and Year-to-date yard waste collected 4,220 cubic yards.